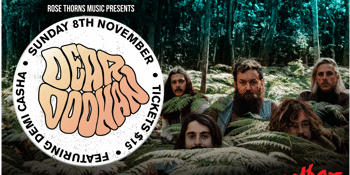 Solbar (Maroochydore, QLD)
Sunday, 8 November 2020 12:00 am
Dear Doonan and Demi Casha unite together for a Sunday session at Sol bar.
With inspirations that travel from the West to the East, this genre-bending psych band will captivate you with their multi-coloured madness. Dear Doonan's music is kaleidoscopic and seamlessly arranged. Whether it be through multiple rhythmic changes or trance-like grooves, before spinning a track prepare yourself for a true musical journey.
https://www.facebook.com/deardoonan
Rich in folky flavours with a hint of psychedelic rock, Demi Casha now has a band to back up her solo performance. She captivates her audiences with her soulful voice, powerful guitar playing and heartfelt lyrics.
https://www.facebook.com/demicashamusic/