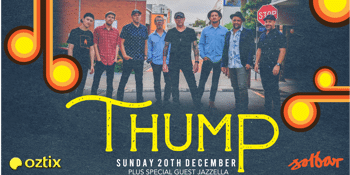 T H U M P
JaZZella & The DudeZ
Solbar (Maroochydore, QLD)
Sunday, 20 December 2020 4:00 pm
T H U M P, the funk & soul of the Sunshine Coast are back at Solbar!

Its members consist of bassist & band leader Oj 'the juice' Newcomb, Clint Francis on lead vocals, Brodie 'Nooch' Graham on guitar, Mark 'Macca' Moroney on guitar, Andrew 'Mouse' Szumowski on Keys, Jacob Mann on Drums & Dyon Tahana on Alto Sax. It also features some of the finest guest musicians in the land such as drummers & percussionists Terepai Richmond, Charles Wall (aka Bobby Alu), Mitch 'Crispy' Francis, Scott Nosworthy, Tanja Hafenstien, Jackie Barnes & a horn section that features Nick Aggs, Clint Allen & Mark Spencer.
The name T H U M P is a term coined by the originator of slap 'thump' bass & the father of funk - Larry Graham (Graham Central Station) a heavy weight in the funk music genre and an inspiration to many including the one & only PRINCE. Performing a fresh a modern approach to their original music with modern influences like LETTUCE, MOTET, NTH Power, Corey Henry, Robert Glasper, D'Angelo, Kamasi Washington, Jon Cleary, Terrace Martin to name a few T H U M P are also heavily influenced by the masters & legends in funk like Marvin Gaye, Steely Dan, James Brown, Sly & the family Stone, George Clinton's Parliament & Funkadelic, AWB, Maceo Parker, Donny Hathaway, Bill Withers, Herbie Handcock & the Headhunters. Feel good, happy music that makes you feel like you have ants in your pants & you need to dance!
JaZZella is a soulful travelling musician who left the Sunshine Coast with her guitar at the age of 17 to explore the world and share her love of music. She has a natural gift for songwriting and a voice that shines with individuality and attitude. After delivering hundreds of captivating performances around the country on a self organised music tour - it wasn't long before JaZZella had established herself as one of Australia's most exciting fresh artists. JaZZella takes to the stage with an explosion of personality and connects with audiences on an intimate level through songs about her life, relationships and big dreams. Inspired by artists such as Amy Winehouse and Ella Fitzgerald, her music comes to life with story-telling lyrics, original flair and catchy melodies that the media have described as 'thought-provoking and mesmerising'. Now at 23 years old, JaZZella has refined her unique and quirky sound and is currently in the final production stage of long-awaited debut album 'StarZ and GuitarZ' at Yama-Nui Recording Studio.