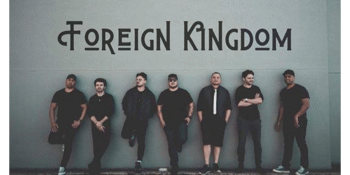 Foreign Kingdom
Lucy Gallant & Cody Miller
Solbar (Maroochydore, QLD)
Sunday, 2 May 2021 5:00 PM
Come along to enjoy your Sunday arvo/ night of live entertainment, at the one & only Solbar. With 3 acts on the bill, you are in for a treat. Doors open at 5pm, it cost $20
A great thing about this date, is that Monday 3rd May is a public holiday
The line up is.....
:Foreign Kingdom
:Lucy Gallant
:Cody Miller
We hope to see you there for a massive party.
:Foreign Kingdom
Foreign Kingdom is a new band on the scene and a must see! Their roots are in reggae but they branch out in all directions – R&B, rock, jazz and more. You can expect a lot of energy from their shows, with catchy melodies, sweet harmonies & positive vibes. Foreign Kingdom put everything into their performances with the aim to make their audience smile and dance. Since forming in late 2020, they have already recorded their first single "Broken System" - which is now available on all music platforms. Foreign Kingdom's name reflects the multinational origins of the band members who have all made a life here in this beautiful country. Their mission is to give back to the people, bringing awareness and spreading good vibes through their music. Foreign Kingdom are very humbled by the support they receive.
:Lucy Gallant
Lucy Gallant is hailed as one of the most talented indie artists on the scene. The British-born virtuoso plays an array of instruments, skillfully producing intricate, high-energy rhythms on the Cajón, while simultaneously singing and playing guitar, drums, ukulele or melodica. Gallant's unique voice soars with rhapsodic range, conveying a full spectrum of emotion in her songs. From light-hearted and ethereal to intense and edgy, her vocals propel passion as visceral and versatile as her lyrics.
She writes her own original songs, fusing sounds of rock, reggae, soul, latin and folk-pop
:Cody Miller
Cody is a young talented man, that loves doing anything involved with music. His passion drives him to deliver every time he performs. Always with a positive smile, Cody & his guitar playing will have soothed