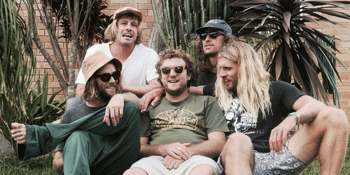 PS Music Group presents
Drop Legs
Solbar (Maroochydore, QLD)
Saturday, 24 November 2018 8:00 pm
Over the past 12 months Byron Bay 5 piece"Drop Legs" have experienced seen their crowds grow and status glow, playing festivals like Party in the Paddock (TAS) and Falls festival, supporting massive sold out shows of Ocean Alley and The Bennies and receiving critical acclaim on community radio and Triple J for their last 3 singles and having a Byron Bay Brewing Company ale made in their name (Drop Legs Witness the Citrus).
Fresh of the back of 18 shows and festivals in Europe, included appearances at Boomtown festival in the UK, Madnes festival (Nthl) and supporting The Beautiful Girls in London, Drop Legs are bringing their party starting dub hip hop sound back to the Pacific Highway this November with a string of dates including stops at Hobart, Launceston, Melbourne, Adelaide, Thirroul, Byron Bay, Gold Coast, Brisbane and the Sunny Coast. The band are currently touring their debut 10 track album "King Brown Sun Down" which was recorded by Eric Coehlo (Havana Meets Kingston, The Strides, Angus & Julia Stone) Andrew Mckinnon (Desmond Cheese) and Dave Atkins (Resin Dogs). The album tells stories of fringe dwelling Northern NSW cruisers chasing good times and vibes up and down the Pacific Highway and features elements of (but not restricted to) Dub, Reggae Hip Hop and Ska Punk. Supporting along the way are some great local acts like Anty (The Bennies) The Bonny Doons (Brisbane), Dosed (Sunshine Coast) and many more.
The band is also preparing a fresh single for the Summer to roll into their first trip over to Aotearoa in January.