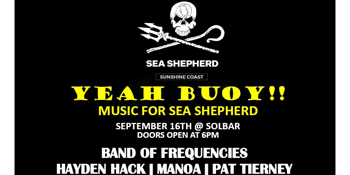 Sea Shepherd
Yeah Buoy! - Music For Sea Shepherd
Band of Frequencies, Manoa, Hayden Hack & Pat Tierney
Solbar (Maroochydore, QLD)
Thursday, 16 September 2021 6:00 PM
Sea Shepherd's Sunshine Coast Chapter are hosting a night of local music to raise clams to fund Sea Shepherd campaigns and help continue their fight to save the oceans.
Band of Frequencies-
One of Australia's premier roots bands, 'Band of Frequencies' draw their influences from a vast spectrum of blues, rock, reggae, soul, and psychedelic genre's. Their signature blend comes from years of live experimentation, constantly pushing their influences into the creative fires to see what melts, what explodes and what merges.
Manoa-
California-born and Australian based

roots artist, Manoa,

brings the summer vibes by weaving

uplifting reggae grooves

that inspire audiences to move and

soothing folk melodies

that calm the mind and inspire a contemplative flow.
Hayden Hack- Hayden takes the listener with him on a journey of transcendent multiplicity through his Psychedelic loops and guitar solos. Hailing from the liberated musical landscape of modern South Africa, Hayden Hack left his homeland some 12 years ago to travel the world and develop his craft and songwriting skills.
Pat Tierney-
Lap slide guitarist and roots troubadour Pat Tierney brings an eclectic and captivating musical experience to everything he touches. Taking influence from the likes of Bob Dylan, Cat Stevens, and Ben Harper, Pat's music dances between folk, blues, roots, and soul. A true songwriter and poet, Pat brings an old school approach with modern tales of love, loss, hope, and social justice.