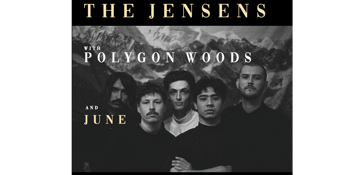 The Jensens
Polygon Woods & JUNE
Solbar (Maroochydore, QLD)
Saturday, 21 September 2019 8:00 PM
Tickets $10 at the Door.
We are bringing our debut album 'Hyacinth Haze' to the Sunshine Coast with good friends
Polygon Woods
and
JUNE
.
The angst and fervour of The Jensens debut release 'Everybody Talks' and the introspective rock of follow up 'Sexless' combine to create somewhat of a first phase in the bands career. They played incessantly around Australia for two years in support of the two records, delivering a live show with staggering energy.
Just 3 months after 'Sexless', the band released their mammoth 10-minute single 'Emotion'. Encapsulating elements of funk, disco, prog and art rock, the band made a statement that reflected a sea change in style and perspective.
Now, in 2019, The Jensens are set to release their debut album 'Hyacinth Haze'. A record that combines all the best elements of their past work. Two singles have already been released from the album, bittersweet opener 'Coma' and psyche-tinged lead single 'Mt. Mura'.
The Jensens are also bringing their dynamic live show to audiences around the country. The band have shared stages with the likes of The Vaccines, Last Dinosaurs, Spiderbait, Twin Peaks, Saskwatch, Art of Sleeping and The Delta Riggs and have also played a number of festival stages such as Valley Fiesta, Jungle Love, The Blurst of Times, Deadlam and the inaugural Grampians Music Festival.