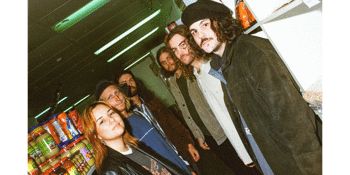 Social State
JUNE - 'Hold Down' EP Launch
DOLLLY ZOOM & Madam Fernandez
Solbar (Maroochydore, QLD)
Friday, 3 September 2021 7:00 pm
After 18 months of refining their music & focusing on their live shows, JUNE will be releasing their debut EP 'Hold Down' on the 5th of August. In celebration of this release, JUNE are bringing their energetic live show to Solbar, playing their EP in full with special guests Madam Fernandez, DOLLY ZOOM & Lilian Vase.
JUNE: A Brisbane based 6 piece with a variety of elements, JUNE keep busy with an unhinged take on neo-psychedelia, filling their sound with sweeping synths, ringing guitars, delayed vocals, saxophone & strings.
DOLLY ZOOM: are not easily defined by genre; nor do they want to be. With each release, they broaden their scope of sound, gliding from synth-pop to psychedelic rock, into dream-pop and disco. They create the soundtrack for those specific yet undefinable moments that the mind holds on to. Pairing introspective lyrics with melancholic melodies, DOLLY ZOOM form a haze somewhere between cosy warmth and cosmic loneliness.
Madame Fernandez: 4 piece alternative/rock/pop band from the sunshine coast making phat tunes and small money. These snot-nose freaks in designer sheets are bound to rock your dirty jocks off with their mind boggling finesse and vigorous brain thrusts