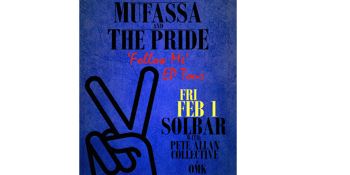 Mufassa & The Pride
Pete Allen Collective + Ollie Murk
Solbar (Maroochydore, QLD)
Friday, 1 February 2019 8:00 PM
On Friday 1st Feb, 'MUFASSA & The Pride' - Coastal Roots-Dub Reggae smooth groovers - drop the 2nd single off their debut 'Follow Me' EP at the Solbar! The band are releasing 'A SONG A MONTH' from Feb-May, starting with 'ALL RIGHT' a laid back old school reggae track with island vibes and smooth layered vocal harmonies.
Acknowledging the role music plays in our daily lives, the ability it has to connect people, spread positive messages and bridge gaps - 'ALL RIGHT' pays respect to valuable lessons that MUFASSA has learnt through his own life - not to value the dollar more than life experiences, to listen and learn before offering advice, and that its okay to feel good about yourself despite the negative web that is created through the commercial world.
'ALL RIGHT' follows on from the debut single 'BLUE SKY' which gained national airplay and took the band across the country.
'BLUE SKY' - Listen Here:
https://open.spotify.com/track/1jO2VSFUCPSkmecjKP2Wak?si=7jQxesFyQr69flYRO8gdUw
Watch Here:
https://www.youtube.com/watch?v=LiGMeKW4vys
'ALL RIGHT' will be available digitally from Feb 1. Come to the Solbar to help us kick start the National Tour! Spare a cheeky $10 (one beer) and have some fun.
Joining them on the night in celebration will be Pete Allan Collective & OMK - 2 Sunny Coast acts kicking goals and spreading good music!
Doors -8pm
Set Times - TBA
Tickets - $10 at Door
Oztix - Coming Soon
Website:
https://mufassamusicgroup.wixsite.com/mufassa
Instagram:
https://www.instagram.com/mufassamusic/
Twitter:
https://twitter.com/MusicMufassa
Youtube:
https://www.youtube.com/watch?v=PjFNGRmkeg8
Soundcloud:
https://soundcloud.com/user-326652804/blue-sky