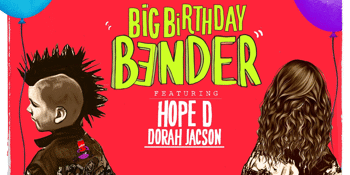 Solbar & Select Music
Solbar's Birthday Bender - Hope D
Dorah Jacson
Solbar (Maroochydore, QLD)
Saturday, 8 May 2021 7:00 PM
Solbar's Birthday Bender is commemorating the institution's 10 years on Ocean Street. From seedy side street, to the home of enterntainment on the Sunshine Coast, Ocean Street and it's mega drawer 'Solbar' is at the hear of Sunny Coast Culture.
To help us celebrate 10 years of beers, Hope D & Dorah Jacson are lifting the roof on Saturday 8th May.

HOPE D
Introducing herself in late 2019 with her debut single "Swim", Hope D captivated audiences with her eclectic capability to create purposeful, confessional and captivating music. This release led her to taking home the inaugural QMusic Emerging Artist Award, performances at BIGSOUND, Splendour In The Grass, Laneway Festival and King Street Crawl, as well as sold-out headline shows in her hometown Brisbane.
The beginning of 2020 saw her release an aptly titled second single named "Second" (which placed #69 in triple j's Hottest 100) and then follow up tracks "Common Denominator" and "Miscommunicate'', once again wowing and surprising fans by her change in sound, but maintaining the same inviting charm and razor-sharp wit through her authentically honest, raw and relatable songs. Hope ended 2020 by winning the prestigious Carol Lloyd Award, an initiative aimed to address the gender imbalance in music and support an emerging femxle-identifying or non-binary singer-songwriter.
Featuring the aforementioned singles and more, Hope's debut EP title 'Cash Only' was inspired by Hope's tattoo artist who had the words painted on her nails at her first post-covid appointment, and is a "very fitting" metaphorical play on words tipping its hat to a period of time where every store would only accept card payments.
DORAH JACSON
Kayla Smart, 21 (a.k.a. Dorah Jacson), is quite the mellifluous soul, and a talented song writer to add. Her writing style is heartfelt, yet whimsical. She delivers song-bird like vocals, accompanied by driving guitar licks, all forming her own dark and dreamy stylings of indie, pop, and alt-rock.
The Sunshine Coaster first performed solo around the region for over a year, and throughout this time she captivated her audiences, and began gaining an admirable following. Now with a band behind her, she's been able to take her performance to the next level, with the power and drive of the drums and bass, and the soaring lead guitar lines and ambient details bringing out the raw emotion and passion behind the songs she's always aspired to express.
In February 2019, she released her debut single 'Away', which quickly began receiving rave reviews. A few weeks later, she was given the opportunity to open at Big Pineapple Music Festival, where she and her band played on the main stage in May.
Since then, the songsmith has played shows and festivals around the region with her band, released her next single 'Sinking', and played her first headline show at Solbar Maroochydore, which received an amazing response. She is now set to surge into 2020 with a new single and EP on the way, as well as working on new material as she grows and learns as a person, artist and writer.