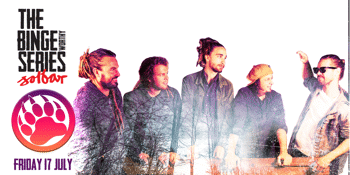 Solbar
Binge Worthy ft: Bearfoot + Oskar Campbell Trio
Solbar (Maroochydore, QLD)
Friday, 17 July 2020 6:00 pm
Gigs are back, and this time, it's personal.
This winter, coming to a Solbar near you, 2020s most binge-worthy series of gigs is the hottest sh*t since we kicked COVID to the curb.
After months in iso, we've binged on hours of netflix, we're tired of tiktok, and there's no longer a porn flick in existence that can surprise us, we've seen it all.
Now it's time to crawl back into the cold new world and take back the weekends with the volume cranked to max. Now we're binging on live, loud gigs.
*All tickets include two drinks*
SEASON 1 - EPISODE 4 : BEARFOOT
Blending So-Cal, Hip Hop and dub reggae with a dash of the Endless Summer soundtrack thrown in,
Bearfoot
's sun-soaked-yet-dark take on roots, reggae & dub has sent ripples through the country, and even over the ditch.
You could blame their highly energetic, sweat-drenched live performances, or their ability to create catchy melodies, but whatever the case, Bearfoot have been turning heads wherever they (and/or their music) go.
Mixing a solid rhythm section made up of fat bass and steadfast drums with percussive flare, bubbling keys, dubby guitars, horn lines that won't quit, and vocal harmonies to support vocalist Asher Chapman's passionate rapid-fire vocals, Bearfoot unashamedly bring their own take on Australian Roots/Reggae music.
Debut single, 'Babylon' got them noticed, and grabbed the attention of community radio. 'Impolite' - produced by Paul Bromley at the Tanuki Lounge in Brisbane's West end - put them on the map (Roots'N'All on Triple J dug it, being used throughout 2016 as part of the program's intro), and scored them a Queensland Music Award in the process (Best Blues/Roots Release).
Come to 2016, and the era of the 'TRiBE' EP was put into effect, including later singles 'Dreamer' and 'Could Be Worse' which kept the ball rolling.
When you add all these releases (including two remixes, in a short time, too) with constantperformances and festival appearances, including massive shows at Woodford Folk Festival (2015/16), Caloundra Music Festival (2015/16), Ocean Street World Festival, Big Pineapple Music Festival, Australian Music Week (Sydney) and a showcase at BIGSOUND 16, then it is without a doubt that Bearfoot would be looking forward to their 2017.
Having already clocked up festival appearances in 2017 (including a visit to Luminate Festival in New Zealand), expect brand new material from Bearfoot mid-2017, which will expand on, and progress from the 'TRiBE' EP, as well as a huge East Coast tour.