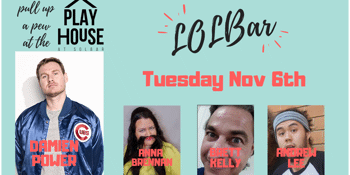 LOLBar at Solbar Nov
Dave Power, Andrew Lee, Brett Kelly, MC: Anna Brennan
Solbar (Maroochydore, QLD)
Tuesday, 6 November 2018 7:00 pm
Ahh geez, every month we are rolling down the aisles at LOLBar.
Here comes the November instiallation, and we got a line up to write home about:
Damien Power
Andrew Lee
Brett Kelly, all cleverley blended together by MC legendary,
Anna Brennan.
Read below about how amazingly funny they are..
Or, just go straight to nabbing your ticket,
Just $12 + bf.
Three-time Barry nominee Damien Power is widely regarded as the most exhilarating voice on the Australian comedy circuit. After just a handful of years playing festivals, he's racked up a number of awards, nominations and rave reviews, as well as selling out rooms across the country.
The 2017 Melbourne Comedy Festival saw Damien nominated for the Barry for Best Show for the third time in as many years, and win the Pinder Prize, an Edinburgh Fringe grant named in honour of legendary comedy impresario John Pinder. Utopia: Live in 3D played at the Assembly for the Edinburgh Festival Fringe, and at London's Soho Theatre.
In the same year, Damien was selected to perform at the Just For Laughs festival in Montreal, appearing on All Access, hosted by Wyatt Cenac and filmed for the Comedy Network in Canada.
Damien returned to the stage in 2018 with his brand-new show Violent Chaos Anyone? performing at all major Australian comedy festivals.
Andrew Lee is a regular on the Brisbane Comedy Circuit since 2013, the same circuit that produced some of the best acts in Australia - Becky Lucas, Josh Thomas, Matt Okine. Applauded by his peers for his crazy antics and left field perspectives, Andrew Lee brings the crowd on a dark, hilarious and entertaining journey. A risk taker, a dark horse, a master class act in the making. "Irreverent" - Some magazine.