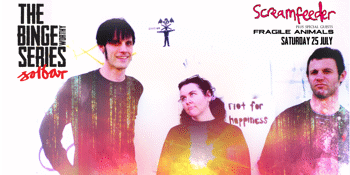 New World Artists
Binge Worthy ft: Screamfeeder + Fragile Animals
Solbar (Maroochydore, QLD)
Saturday, 25 July 2020 6:00 PM
Gigs are back, and this time, it's personal.
This winter, coming to a Solbar near you, 2020s most binge-worthy series of gigs is the hottest sh*t since we kicked COVID to the curb.
After months in iso, we've binged on hours of netflix, we're tired of tiktok, and there's no longer a porn flick in existence that can surprise us, we've seen it all.
It's time to crawl back into the cold new world and take back the weekends with the volume cranked to max. Now we're bringing on live, loud gigs.

*All tickets include two drinks*

SEASON 1 - EPISODE 8 : SCREAMFEEDER with FRAGILE ANIMALS

SCREAMFEEDER
Screamfeeder are a 3 piece noisy pop / indie rock band from Brisbane Australia.

Lovers of loud and beautiful music since the day they were each conceived, they have been compared to all the greats; Husker Du, The Jam, GBV and The Who.

Comparisons aside they rock in their own unique / sublime / chaotic way.

Contradictions and dualities abound within Screamfeeder, and therein lies their beauty less

"They're the band you grew up with, whose songs are imprinted into the DNA of every music-lover who came of age in the 90's and 00's. A band of eternally-youthful fuzz-pop darlings who, however improbably, have continued to play together for over 25 years and somehow have not only gotten better, but have become even more loved.

A band that combines loud with beautiful, intense with joyous, chaotic with precise and pulls it all together in a way that very few acts ever manage."

FRAGILE ANIMALS
There's something captivating about watching a band hit their stride. For Brisbane/Sunshine Coast alt-gaze trio Fragile Animals, that time is now.

Their 2017 debut EP Light That Fades was met with a joyous welcome. While their sophomore EP 'Only Shallow//Only More' was the graduation with flying colours every band looks to strike upon. Songs from both releases found open ears and airplay at Triple J, becoming an Unearthed Feature Artist and winning a place on the line-up to their local Triple J presented Big Pineapple Music Festival.

Latest single 'Only Until It's Over' serves up a banquet of catchy melodies from vocalist Victoria Jenkins delivering a rich slice of indie-rock amidst the powerful, driving rhythms of drummer Kyle Shipton and Daniel Parkinson's cavalcade of rich guitar tones.

Fragile Animals sculpt bittersweet indie-rock, inhaling their influences and exhaling carefully as a smart young band carving out their own sound. A luscious layering of slow burning choruses and intricate guitar melodies – part indie-pop, part shoegaze paragon.

Fragile Animals live prowess has gradually been honed over the last two years, not only crushing the stage at the aforementioned Big Pineapple Music Festival, but also within support slots with the likes of Polish Club,Flyying Colours, Bugs, Jebediah as well as on east coast tours of their own.