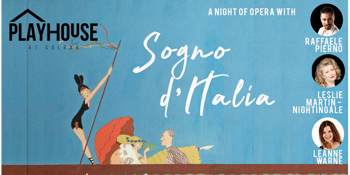 Solbar
Sogno d'Italia
Raffaele Pierno, Leslie Martin-Nightingale & Leanne Warne
Solbar (Maroochydore, QLD)
Tuesday, 30 October 2018 6:30 PM
Sogno d'Italia. Everyone dreams. It may be an Australian soprano dreaming of the land where opera was born. Or an Italian tenor, now living in Australia, reminiscing of his homeland.
Leslie Martin-Nightingale and Raffaele Pierno have performed nationally and internationally in Italy, Switzerland and the Czech Republic. Singing opera and Italian song with energy and passion, this duo receives thunderous applause wherever they perform.
Our soprano, Leslie Martin-Nightingale has performed professionally in over 35 operas worldwide, working with Opera Australia and Opera Queensland and is a regular performer with many orchestras in Brisbane.
Born in Naples, in the same street as the famous tenor, Enrico Caruso, Raffaele Pierno has worked with eight Conductors from around the world and has a vast Operatic and Classical repertoire as well as being a Master of Neapolitan song.
Sogno d'Italia reflects their dream of Italy: wonderful opera and passionate music, famous cities and beautiful countryside, Fashion, art and beautiful blue seas.
Come, share our dream.


Dinner + Show
$50per person
Package includes:
A ticket to Sogno D'Italia
A delicious pasta or fresh italian pizza,
paired with a glass of house wine, or a tap beer.
- early reservations encouraged -