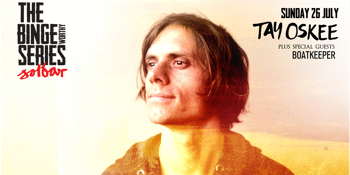 Binge Worthy ft: Tay Oskee + Boatkeeper
Solbar (Maroochydore, QLD)
Sunday, 26 July 2020 4:00 PM
Gigs are back, and this time, it's personal.
This winter, coming to a Solbar near you, 2020s most binge-worthy series of gigs is the hottest sh*t since we kicked COVID to the curb.
After months in iso, we've binged on hours of Netflix, we're tired of TikTok, and there's no longer a YouTube flick in existence that can surprise us, we've seen it all.
It's time to crawl back into the cold new world and take back the weekends with the volume cranked to max. Now we're bringing on live, loud gigs.
*All tickets include two drinks*
SEASON 1 - EPISODE 9 : TAY OSKEE
TAY OSKEE
Upon listening to
Tay Oskee
's music, his deep connection to the natural world becomes unmissable.
Sewn throughout his heartfelt lyrics are traces of his past, present and future. From his formative years living amongst the Yolngu people of North East Arnhem Land, to the tropical beauty of his hometown Mission Beach, Tay traverses a spectrum from chilled beach tunes to punchy folk with pop sensibilities.
Spending the better half of 2019 based in the UK/EU, touring with the likes of Xavier Rudd and performing at Hungary's prestigious Sziget Festival; Tay rounded out the year to be with the release of his acoustic ballad, 'Floating'.
Written during a period of adjustment between coastal life in Australia and the rapid pace of London, the track has since clocked over 2.5 million streams and paved the way for sold out shows in Australia as well as 2020 Festival appearances at The Great Escape, Dot to Dot and Boardmasters in the UK.
Due to the impact of the COVID-19 pandemic, all shows were postponed/rescheduled to late 2020 and into 2021, giving Tay an unexpected window to write and craft new material that most heavy touring schedules deny.
BOATKEEPER
Growing up in the small Queensland town of Mission Beach Boatkeeper has woven the coastal sounds of a salt drenched youth into their own brand of soulful, acoustic folk/rock. Days spent experimenting in the filtered sunlight of palm trees have infused Boatkeeper's sound with an impressive ability to transport his audience instantly to the sunshine and surf.
Boatkeeper played countless shows along the East Coast in support of Windward last year impressing audiences everywhere they went. Music Is My Muse said of his live show "Boatkeeper put crowd at instant ease with an invitation to "chill out", they provided warm, honest, witty and intimate storytelling."