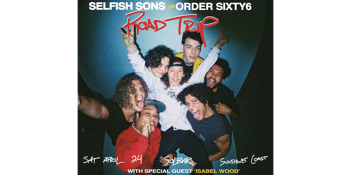 Niche Productions & 97 Joyride Agency
Selfish Sons & Order Sixty6: An East Coast Road Trip
Isabel Woods
Solbar (Maroochydore, QLD)
Saturday, 24 April 2021 7:00 pm
NICHE PRODUCTIONS & 97 JOYRIDE AGENCY PRESENTS:
SELFISH SONS & ORDER SIXTY6: AN EAST COAST ROAD TRIP.
Saturday 24 April 2021 at Solbar, Sunshine Coast, with special guest Isabel Wood.
Selfish Sons and Order Sixty6 continue their 2021 highs with the announcement of their joint Road Trip Tour, set for take-off across 3 iconic venues in Queensland in April & May 2021. With both bands boasting sell outs across the country, this all-round mate fest will give punters a unique experience, by fusing diverse genres for a night of complete juxtaposition in the most unifying way possible.
Selfish Sons are a three-piece alternative rock band from Brisbane, Australia. Making rock music with pop sensibility, these brothers have established themselves as eccentric entertainers with a powerful sound.
After many devious nights and failed cover attempts, the addictive energy of live shows became an obsession, leading to numerous tours, festival appearances and a string of international and national support and sold out shows across the East Coast. The band has developed a name as one of the most energetic, passionate and impressive upcoming acts.
Order Sixty6, on the other hand, are a group of four misfits from a galaxy far, far away, let loose in a makeshift recording studio. The collective have performed alongside Cub Sport and Jaguar Jonze, were nominated for Best Hip-Hop song at the 2020 Queensland Music Awards (alongside Nerve and Camouflage Rose) and were also winners of Triple J Unearthed's 'NIDA Music Video' competition for their song 'Bruce Banner'
The Order crew did all of this while performing at Brisbane Festival 2020 AND BIGSOUND while also dropping their debut EP, 'Chester' which was accompanied by two back-to-back sold out house-party shows.
Starting 2021 with two new single releases, peace.exe and Too Fine, the misfits are well and truly back on their quest for Galactic Dominations. After coming off the back of a sold out headline show at Mountain Goat Valley Crawl, Order Sixty6 are pumped to take on the east coast of Australia.
Selfish Sons and Order Sixty6 will be headlining these exclusive, one-off shows across Gold Coast, Sunshine Coast and Brisbane.
You can see the bands in any of the dates below:
Friday 16 April 2021 – Vinnie's Dive, Gold Coast
Saturday 24 April 2021 – Solbar, Sunshine Coast
Friday 7 May 2021– Felons Barrel Hall, Brisbane
Starting what is set to be an even bigger year for both the bands, the two collectives return to the east coast shores of Australia before commencing a year of craziness and chaos.
Presented by Niche Productions & 97 Joyride Agency.
All shows on this tour and surrounding have a zero-tolerance to any form of intimidation and harassment. Please leave any bigotry at home.