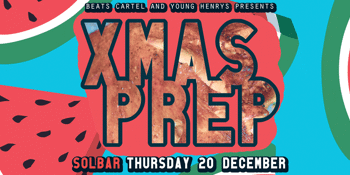 Beats Cartel and Young Henrys
Beats Cartel XMAS PREP
Cheap Fakes, Hobo Magic, Transvaal DS and more
Solbar (Maroochydore, QLD)
Thursday, 20 December 2018 7:00 pm
Roll up roll up, get your turkey and get stuffed at our annual Beats XMas party XMAS PREP.

We're teaming up with our buds at Young Henrys and bringing you much of our fine stable of voracious steeds including Cheap Fakes, Hobo Magic, Transvaal Diamond Syndicate (back from the dead), Hemingway and Melbourne visitors Pseudo Mind Hive.

It will be an epic night full of riff, ale and merriment. BYO misteltoe.

*EVERY ONLINE TICKET PURCHASER will win a prize! BAD SANTA's knee will be in attendance. Tix on sale Monday.

For just $10/15 this is a cracker gig c/o your pals at Beats Cartel. Will pack out, get in early and get your XMAS PREP done right.